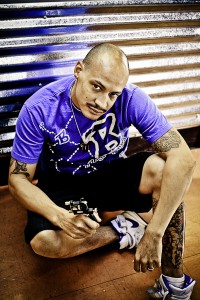 Sin City Smitty – International Hip Hop Tattoo Artist to the Stars
Having the opportunity to tattoo a celebrity can be nerve racking. What if you had the chance to do it multiple times from Academy Award winning rap artists to Gold Medal winning Olympians? Sin City Smitty knows just how that feels. "I am 'THE' international hip hop tattoo artist to the stars. Maybe you have heard of me? I am Facebook famous."
Smitty grew up in a world where dreams and hard work weren't simply pursued, they were achieved. Big brother Tash, member of the American hip hop group Tha Alkaholiks, showed him that anything could happen. "Watching him (Tash) use his talents to accomplish his dreams; I used the same sort of hustle that he used in his rapping in my tattooing. That's how I knew it was possible," Smitty admits.
With a degree in graphic design, Smitty hadn't considered becoming a tattoo artist. While designing apparel he came into contact with extreme athletes and their extreme tattoos. "I knew I liked tattoos, but growing up in Ohio I didn't realize how popular they were until I moved to California," he recollects. It wasn't until he was approached by California tattoo artist, Mario Skulls, that he transferred his work from computer and paper to the human body. "I learned a lot about the profession from getting tattoos," Smitty recognizes, as he mentions he only had two before he pursued his own inking career. Currently, he has multiple tattoos, from multiple artists.
What began as a passion for graphic design turned him into a skilled designer of the skin.
"Tattooing just added an extra dynamic to me. I'm still into the design aspect and do it daily, but I am able to do more with it (tattooing) as a designer." Currently taking Sin City by storm, Smitty is just one of many artists in the Las Vegas area, but his unique style, light touch and welcoming attitude are what bring people to see him. Not to mention his signature purple gloves, something he refuses to tattoo without. Through his brothers music career he has been able to do work on West Coast rap artists RBX, Rosco and 40 Glocc of G-Unit and of course, DJ Paul of Academy Award winning rap group Three 6 Mafia, Super Bowl winning Linebacker Brandon Marshall and even Gold Medal Winning Olympic athletes Cullen Jones and Conor Dwyer of the USA Olympic Swim Team.
The bright lights and overall "good-time" atmosphere of Las Vegas usually aren't enough for Smitty. With a love for travel and artistic experiences, he has done many conventions. Most recently, Ink N Iron Tattoo Festival in Long Beach. He can't wait to return to New Plymouth for the 2012 New Zealand Tattoo and Art Festival and guest spot at Ink and Anchor Tattoo and Art Space.
"This is not a tough man competition, they have things for that," as Smitty has learned. "To me it's (tattooing) a work in progress. I strive to perfect the craft, and be the best artist I can be," Smitty comments as he prepares to tattoo his latest design on another strong willed individual.